Natural Landscaping in the Dunes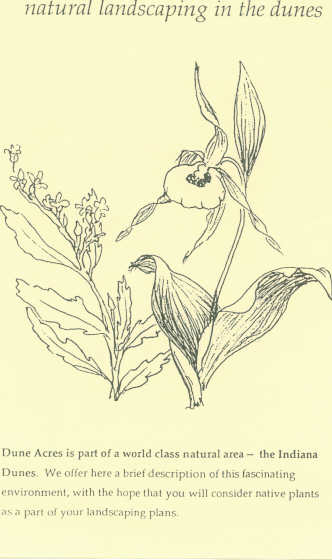 Several types of ecological communities are present within the Town. Some of these are: the beach, with marram grass, sand cherry, juniper, cottonwood; the high dunes with black oak, pucoon, lupine, showy goldenrod-- all plants that thrive on sand and sun; north slope back dunes with white and red oaks, witchhazel, shadblow; low coves, with white oaks, sugar maple, may apples, dogwood and ferns. Your property probably fits into one of these general types. Some very rare plants grow in town parks and on residential property in Dune Acres-- perhaps on yours. We hope to identify and preserve these with the help of property owners.
Dune Acres has a long history of interest in our native plants and animals. The town has set aside 270 acres of land for town parks over the years, sometimes at considerable monetary sacrifice by its citizens.
Most of us think of a yard as a place of lawn with marigolds and imported evergreens-- the American suburban landscape style. But native dunes vegetation is so attractive that many residents strive to maintain it as an integral part of their landscaping. This has distinct advantages in that these plants are naturally adapted to this dry, sandy and often windy area and require little maintenance, once established. Also, by preserving the native trees and shrubs, privacy can be preserved.
Natural landscaping is a growing and exciting concept in many places, but, unfortunately, most local commercial landscapers and contractors have yet to acquire much knowledge of or interest in native plants.
It is easier to protect your existing vegetation than it is to restore it. Become familiar with the plants on your lot over a year of changing seasons before you site your house. That inconspicuous small tree you might want to cut in the winter may evolve into a showy flowering dogwood in the spring.
Over the years plants have been introduced into the town that tend to become invasive and eventually destroy the native vegetation. Among these are black locust, Tartarian bush, honeysuckles, purple loosestrife, multiflora rosa, Russian-olive, and tree of heaven. Please try to avoid introducing such plants into the community.
We have started a file of information for those who want to learn more about the natural environment, and how to utilize native plants in landscaping. It includes material on appropriate plants and nursery sources, landscapers with knowledge of natural landscaping, plants unappetizing to deer and schemes to discourage these voracious eaters (yes, we have a deer problem), hints to keep your contractor from killing your trees, and other pertinent information. The file is available to town residents. We can also refer you to people who will be glad to help you identify plants and share their knowledge of this beautiful area.